Captivating Designs of High Quality Teak Garden Furniture Jepara
Teak garden furniture Jepara has been well known and used abroad, especially in Asia and Europe. Besides for houses, these high-quality products are also used by luxury hotels and resorts, restaurants, spas, and clubs. The reason of why Jepara furniture is popular and desired is not only because of the quality, but also the competitive prices. The teak garden furniture from Jepara come in a variety of designs that make you amazed. Whether it is for furnishing your own home garden, or maybe your cafe, restaurant, or other business places, these items provide you the durability, eye-catching design, and prestige.
Popular Products of Teak Garden Furniture Jepara
Outdoor patio furniture set consists of four folding chairs and octagonal table gives your garden or patio an eye-catching look. The special character of unfinished teak color creates a natural impression. Of course, it will be a timeless garden element that is incredibly cool for now and future. Place this furniture set in the shady area of your garden or lawn to provide the best and coziest sitting spot for your family. This teak garden furniture Jepara set is a custom made product, so you can adjust its size and the number of chairs by your garden area.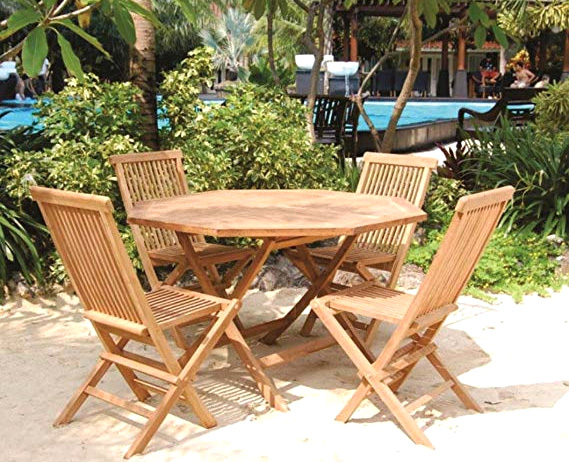 If you have been planning to provide a comfortable and shady outdoor dining area, the teak garden furniture Jepara outdoor dining set will be the best option. It doesn't only give your garden a classic look, but also allows you to combine it with other garden elements since the design fits in every ambiance. The minimalist type usually comes with four chairs and small rectangular table. This furniture set is flexible, allowing you to hold some casual outdoor meal times or just for sitting and having a conversation while enjoying fresh air and garden view. It seems to be ideal outdoor furniture set for minimalist garden decor
If you have a swimming pool in your backyard, the best complement to make it more awesome is patio furniture set with a patio umbrella. Round patio table equipped with patio umbrella and surrounded with 4 teak chairs are really perfect to have a comfortable relaxing time after swimming. Teak garden furniture Jepara swimming pool set is also important to emphasize the classy look around your backyard swimming pool. Whether it is sunny or raining, you can enjoy the outdoor fresh air with swimming pool view in this sitting area. The umbrella gives comfortable shelter whenever you need.
As one of the most desired material, teak gives a lot of benefits you need to provide the best quality of furniture, especially for the durability. The 3 main aspects why people choose teak furniture Jepara includes the durability, prestige, and the value. If you purchase it, you have invested something valuable, even for decades. There is no reason for not having this garden furniture. When people have a visit to your house and see your garden, this teak furniture will be a great focal point that adds more aesthetic value to your garden, patio, or yard.