Furniture manufacturers in Jepara Indonesia
CV. Jepara Crafter Furniture is a wooden furniture manufacturer in Jepara Indonesia that specializes in beautiful teak furniture that is exported across the world. This exquisite Indonesian furniture is modern in design including both indoors and outdoors. Our entire furniture collection is made of the finest Indonesian teak wood to meet the global demand for top quality teak furniture.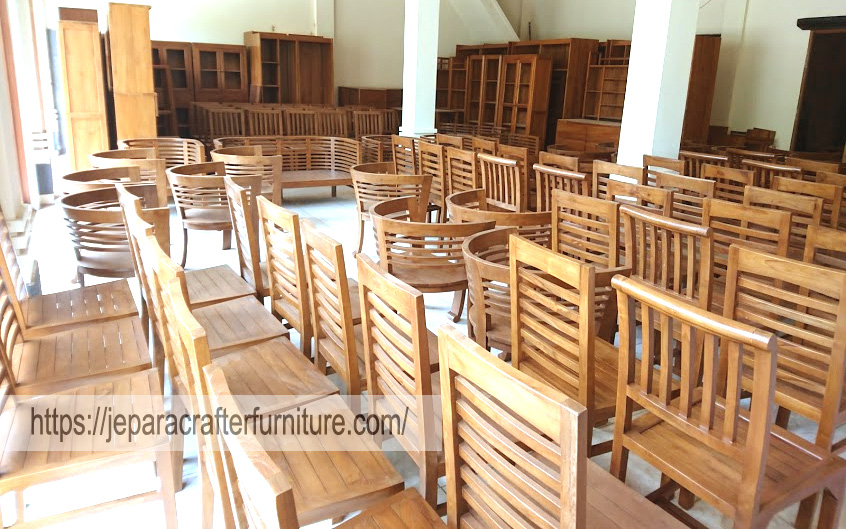 The wood used in producing our teak furniture is grown in an Indonesian teak wood plantation. Once harvested, all teak is kiln dried, ultimately producing a solid teak wood product. We export more than a hundred shipping containers of gorgeous teak furniture a year to different countries across five continents. These include: Malaysia, Singapore, India, Vietnam, Taiwan, Belgium, France, Germany, Italy, Spain, UK, South Africa, New Zealand, Australia, Brazil, and USA. With a multitude of happy customers our business continues to grow year-by-year.
CV. Jepara Crafter Furniture is the foremost teak wood furniture manufacturers in Jepara Indonesia, creating high-end modern teak wood indoor and outdoor furniture. Our collections include tables, chairs, benches, racks, bookshelves, chests of drawers and more. Each piece of teak furniture we make undergoes a thorough production process that meets quality control standards for export. This begins with very carefully selecting the materials and inspecting each piece throughout the production process until it is packed for shipment. Each step along the way ensures quality.
The various designs and pieces included in each collection of Indonesian furniture produced by CV. Jepara Crafter Furniture can fulfill any market demand for top quality teak furniture. We sincerely hope you enjoy our collection of authentic indoor and outdoor Indonesian furniture made of the finest solid teak wood. If you need additional information or have any questions about our products, please contact us.